Another World Belfast was founded by Connor Kerr and Becky Bellamy in 2017. Our inspiration was found a little before then…
For many years Connor worked as a fashion hairstylist and events producer in Belfast.
With an interest in ethically made fashion he discovered eco company Indosole, a unique footwear brand that turns used motorcycle tires into shoes to save them from landfill.
When he asked more about what they do Connor was invited by the brands CEO to visit their production facility in Indonesia. In the end his planned 4 month trip lasted over 4 years.
It was when working on organisation outreach that he met Carlos Ferrandiz of The Harapan Project. Carlos told Connor of his efforts working to bring educational and medical aid on an island, a few hundred miles east.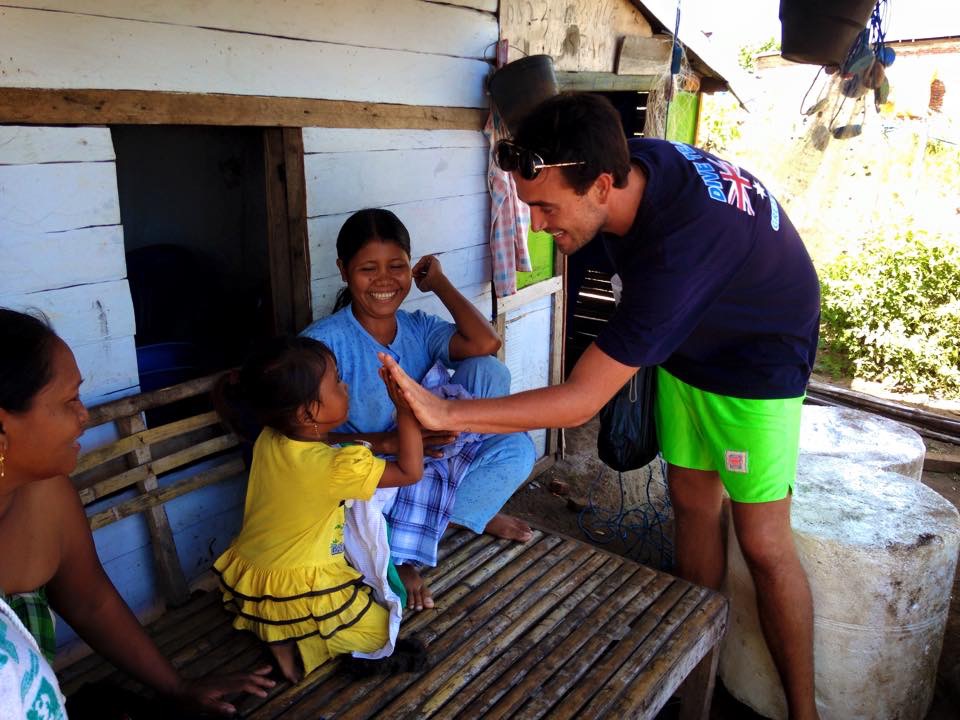 In that first meeting with Carlos Connor spoke a few words that would change his life in so many ways. He said "I will come".
Connor first lived on Sumbawa to assist with community respite duties alongside direct outreach with the Harapan Project's malaria campaign. That campaign supplies medical aid (when available) and prevention education to indigenous populations living on the island.
It was during this time that met a family with a child with a burning high fever and in fits of pain sadly close to the end of their life. Medicine that would have been available on request from a local GP in Belfast would have saved them, their family and a village decimated by preventable and avoidable pain and suffering.
Feeling powerless and faced by immense privilege that evening Connor committed his life to helping the lives of others. A big dream that has determined so much of how we work today.
Inspired by working alongside Carlos and with a passion to find out how he could further his skills and knowledge in the field he would fly next to COLT, a children's shelter in Phnom Phen, Cambodia before taking further positions in various humanitarian led projects around the world.
During this period Connor's experience included first hand work at the height of the refugee crisis in Europe, child education and food relief in South America, and anti-poaching and community building work in Central America.
When working with a community focused project in Central Bolivia in 2017, Connor experienced a series of medical events, including a parasitic infection that was slowly eroding his nerves and immune system to the point of being unable to walk.
With his health failing he decided 'it's now or never' and started to make plans to combine his previous professional experience with a mission to assist in the lives of others.
Connor is happy now to be as fit and healthy as ever, and looks upon that part of his journey with gratitude.
He made his way back from in Bolivia to resettle in Belfast city in Spring 2017.
Once home Connor put a call out on social media asking for hair and makeup artists to get in touch for a planned creative fundraising concept, Another World Belfast, 'Hair with A Humanitarian Mission'.
Becky, a friend of Connor for many years, had recently moved back to Belfast from London. She went out on a limb and, although not requested, offered to make use her organisational experience to support in any way that she could.
Although AWB first launched in Autumn 2017, Becky has worked full time on The project since Feb 2018. At the time of our pop up, Becky was MD of a national retailer, having left Diageo to return home to Belfast after 13 years with the company, seven of which based in London.
Before Another World Belfast and the huge lifestyle change that comes with the formation of a not for profit organisation, Becky enjoyed a progressive and interesting career. At Diageo she worked her way from an entry level role in Belfast to management at HQ in London. Working with many talented people and across many disciplines, specialising in data, process andchange management, and finding her happy place as Europe Creative Marketing Procurement Manager.
Since her decision to work on AWB, fulfilling what she now knows to be her purpose, Becky has never been happier. She and Connor perfectly complement each other's skills and they bring out the best in each other.
They share a rebellious attitude, based on respect, positivity, and fun between them that regularly allows them to work with amazing people and organisations.
For everything they have been able to do so far, and for all they continue to do in future, they are in a constant state of gratitude.
Together Connor & Becky's long-term ambition is to breathe life into Another World Belfast as a self-sustaining model to bring together those in need with those who wish to help.
In Winter 2017 we simultaneously ran a variety of pop up fundraisers, from a salon with a social mission, located on Belfast's University Street to special events including community meal days, and a series of yoga and meditation focused evenings.
Combining beautiful experiences with a not for profit donation based model inspired us to continue in our mission soon to be entirely sustainable and focused on funding humanitarian aid from the ground up.
Alongside our support for humanitarian led organisations we started to develop the first of many planned projects so that we could best use both our professional and personal experience to give back directly.
It was during this time that The Love Pack was born.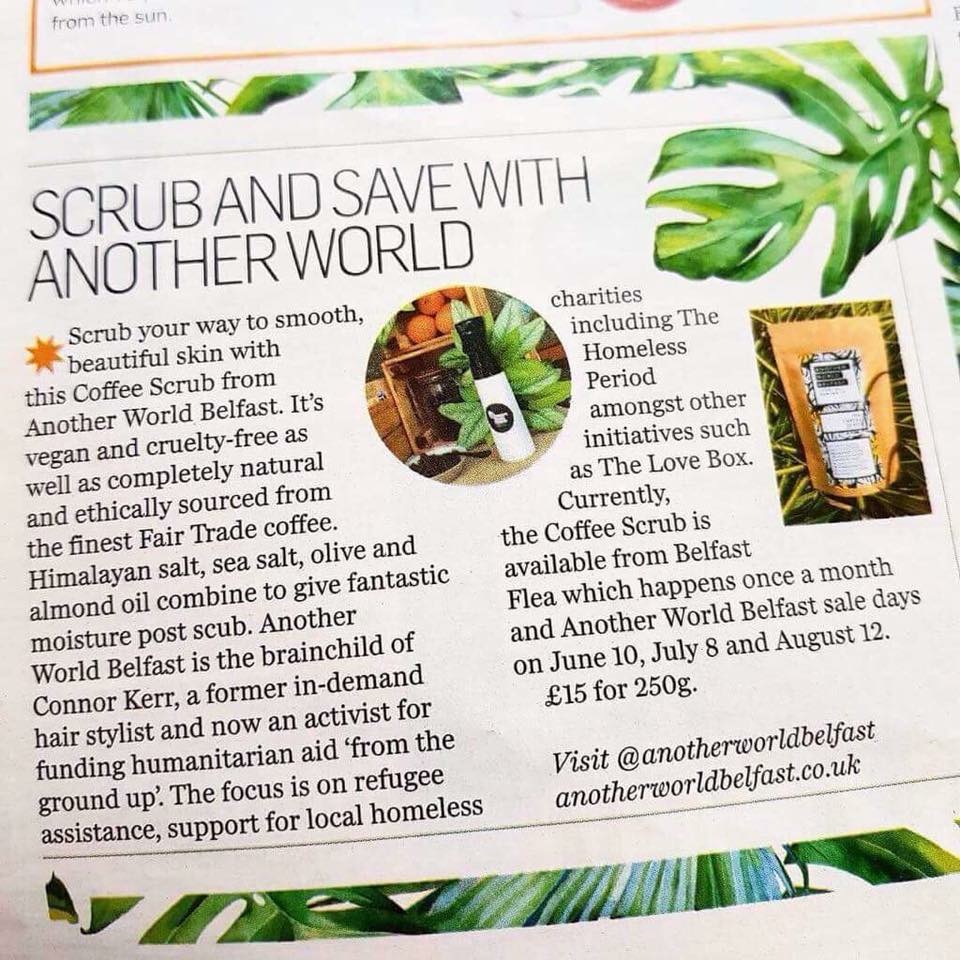 Our pop up projects in 2017 were a fantastic success so naturally we wanted to build on that and grow into something bigger and most importantly, we wanted to trade for what we do allowing us to remain self sustainable and independent.
We needed a product. One we could develop and make ourselves, and that stood for our personal values.
Our all natural skin care regime and experience of coffee themed homemade recipes inspired us to try our own. We wanted something that was simple, all natural and effective, The Coffee Scrubber was born.
Since launch we have driven across Europe and back again, we developed three products, adding our Yeo Malone soy candle to our Gift range and delivered our Coffee Scrub into the hands of celebrity followers the world over.
We still make, pack, paint, stick, and sell every pouch of scrub, candle and tote ourselves.
We truly believe that by working 'from the ground up' we will continue to grow in a way that builds on our existing experience and we will always continue to learn.
We jumped straight from our first nervous Belfast Flea to the biggest of hippy markets on the white isle, followed by The Irish Vegan festivals, our St George's Friday market, the Galgorm hotel Christmas experience, and all now run from our home at Belfast's hottest arts spot Vault Artist Studios. It's been quite the ride!